Windows compatible - official
It's official - Samsung's Solid-State Disk (SSD) products are Windows compatible. Yes, the South Korean giant's three Flash-based hard drives - two 32GB models and a 16GB unit - have passed Microsoft's WHQL certification, the manufacturer said today.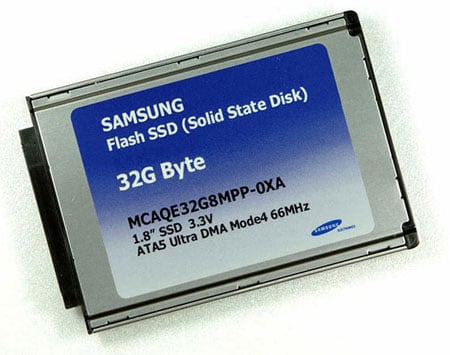 Samsung was quick to tout the units' benefits - read and write speeds of 57MBps and 32MBps, respectively; operational power consumption of under half a Watt; a sleep-mode power consumption of 40mW; superior resistance to knocks and bumps - at the penalty of much reduced storage capacity in comparison with rotating magnetic media and the limited writing lifespan of Flash devices.
Since introducing its original 1.8in, 32GB SSD earlier this year, Samsung has rolled out a second 32GB model with a non-standard, 7.1 x 5.4 x 0.3cm casing and a 16GB, 5.6 x 4.8 x 0.4cm model, both aimed at sub-notebook computers. ®