I use a computer of course, but only for fun. I'm certainly not a guru. So when people started talking about "spyware" I was a little confused. It sounded like a virus, but it clearly wasn't. No problem, I visited a site that I trust (Microsoft.com) and found a very nice lady there (in a video, of course) who told me all about it.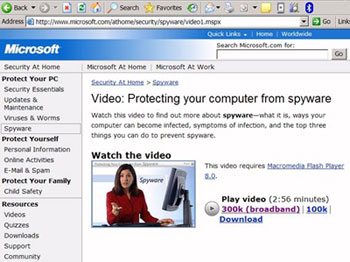 She said (and there was a helpful transcript window so that I could read the words as well) that spyware is software that takes control of your computer without you knowing it.
She said it can change my computer's behaviour in ways I don't want. If I got some spyware, my machine could slow down and I could begin to see pop ups I didn't want to see. Apparently, you can get spyware by downloading software that doesn't clearly state what it's going to do after it's installed.
Another sign of spyware is that it doesn't tell you in an obvious way what it's going to do to your computer. As she pointed out, if it did, then I could make an informed choice to accept it or not.
She also suggested that before I downloaded anything I could always search online to see what other people thought. Or, I should check with someone like Toby (her son who is, apparently, a guru.)
That cleared things up a great deal in my mind. Spyware is simple to understand.
Then, in order to keep my computer up to date, I decided to check my copy of Windows for updates. I followed the links and was told that some of my Windows components required an upgrade.
Apparently, to use Microsoft Update, I first had to install the latest version of some Windows components. That would allow my computer to work with these new features on the site: More updates, faster updates, easier navigation.
You can see for yourself what it told me: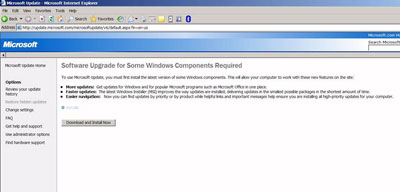 That sounded great, so I downloaded it. It was fine, so I told my friend about it and he downloaded it as well. But suddenly...
His computer's behaviour changed in ways he didn't want. His machine slowed down, pop ups that he didn't want to see started to appear. Some of them asked him for money. This wasn't what either of us expected, so I started to look into the problem. After a great deal of work I found out that we had actually downloaded a program called the Windows Genuine Advantage Validation Tool. This program tests to see if your machine has a genuine copy of Windows.
My friend felt that he hadn't been told in an obvious way what it was going to do to his computer. But, apparently, if he had wanted to know more, he should have clicked on the tiny, very light blue, "details" word in the screen shot above. If he had done, it would have told him this.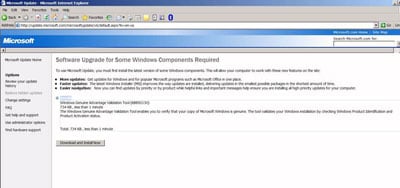 So that was his fault.
In addition, apparently neither of us can now remove this tool. It is destined to sit on our computers forever (unless we reinstall Windows).
Belatedly, I remembered what the lady had told me and I checked online to see what people thought about the WGA. If you want to know, try typing "Windows Genuine Advantage" into Google. Quite a few people don't seem to like it; certainly my friend's less than thrilled.
Oddly enough, I like it. I believe that people should always use genuine copies of Windows software; so I like having a copy of WGA on my machine. It makes me feel proud to be verified, almost as if I belong to the Microsoft club in some way.
That's not my problem. My problem is that, just briefly, I thought I understood what spyware was. I thought it was software that doesn't tell you clearly what it is going to do, that makes your computer behave in ways you don't like, slows it down and causes pop ups you don't want to see. There is obviously something here that I don't understand. I think I'll talk to the nice lady again and see what she says this time around. Perhaps I could get her to ask Toby. He is, apparently, a guru. ®