Hyperconverged hybrids snare the g-men
AWS Reinvent
We do hybrid too, insists senior VP Andy Jassy
+Comment
Sky and TalkTalk also expected to beg for spin-out
US cloud businesses face 'legislative buzzsaw'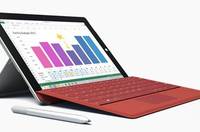 Canalys Channels Forum
HP Inc's boss welcomed Microsoft's foray into the high-end notebook market this week, if it helped vendors push up price tags across the board.

Analysis
"Someone out there must have a family," Panos Pinay remarked yesterday, surveying his audience of potato-shaped gadget bloggers. An optimistic view, I thought. Pinay was presenting Microsoft's Devices event in New York, an event designed to get bloggers' juices running.

eBay, Amazon fraudsters, cheap gear in the crosshairs
OpenSwitch is a "brite box" NOS that welcomes being forked up


Microsoft has announced it will now offer backups of on-premises SQL Server, Hyper-V virtual machines, SharePoint Server, Microsoft Exchange and windows clients to Azure.

Amazon Web Services (AWS) kicked off its annual re:Invent conference on Wednesday with the introduction of a handful of new additions to its cloud computing service.
EMC has most of October to answer activist investor Elliott Management's demands for a shareholder value increase through a sell-off of VMware.

Running HP's global enterprise channel is a big job but someone's got to do it. That someone is Kerry Bailey, currently a senior exec in the firm's cloud division.

Analysis
Former Autonomy CEO Mike Lynch has stepped up his rhetoric against HP in his latest lawsuit against the firm, having characterized HP as a snake pit of backbiting and internecine squabbling where execs "generally fought amongst themselves like cats in a sack."

AMD has unveiled a belt-tightening plan that the struggling chipmaker hopes will get its finances back on track to profitability.