Apart from Hull and East Yorkshire. We're sticking with those babies
Flash storage upstart's stock needs some tonic as it crumples to $1.30 apiece
Nine years late is better than nothing
Tom Kelly lands as non-exec director
Cheap servers, tech books and desktop hypervisors can be yours
Windows Defender lives up to its name by dealing death to Dell's dumb DLL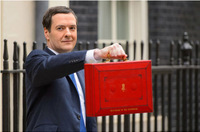 Plans to pump an extra £450m for the Government Digital Service to fuel the "digital revolution" was the shock take-away announcement in George Osborne's Spending Review yesterday - from the perspective of technology spend at least.

+Comment
HP, no HPE, storage's revenues are down again, continuing a longish slump and, with HP Inc (PCs and printers) now undocked from HPE (the rest), many are asking the question: "What next?"

IT party central at City premises?
Top 20 IT suppliers made £10.7bn from gov last year as 'relationship improves'


Hewlett Packard Enterprise is buddying up to Microsoft on public cloud, chief executive Meg Whitman has confirmed.

UK internet hub Telecity on Thursday plans its third shot at fixing a power systems problem that fried customers' servers.
Splunk CEO and president Godfrey Sullivan has retired.

VMware cofounder and CEO Diane Greene is to head all of Google's cloud efforts.

Telecity cancelled its plans for a second shot at fixing the stricken power supply in its Docklands internet hub at Sovereign House.

Despite its CEO saying NetApp was moving forward with clarity and speed in the data-powered digital era, NetApp recorded lower revenues and profits on the annual compare for its second fiscal 2016 quarter, ended October 20. Same old, same old.